Huge polling in Hong Kong local elections
District Council elections in Hong Kong were held on Sunday. In this election, a greater number of citizens have exercised their franchise than ever before. It is noteworthy that just six hours after polling began, more voters exercised their franchise than the last 2015 election. Nearly one-fourth of voters exercised their franchise within the first four hours. By 1.30pm on Sunday, 15,24,675 people exercised their franchise. Statistics show that 14,67,229 people exercised their right to vote in the same period in the 2015 election. The polling process began at 7.30 am during the election. The night ended at 10.30am. The electoral process continued for 15 hours as announced by the Electoral Affairs Commission (EAC). By 11.30am, 24.37 per cent of Hong Kong-wide voters, 10,07,100 voters, exercised their franchise.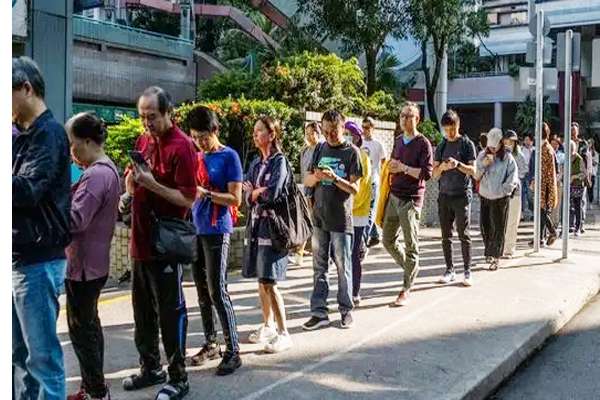 A large number of voters are lining up outside the city's polling stations, according to the China Daily. ECA Chairman Barnabas Fung Wah appealed after voters saw the ballot at several polling stations to wait patiently for the voters to exercise their franchise. He said only voters standing in the queue before the end of the polls were eligible to exercise their franchise. Elections in the country were held in a peaceful and orderly manner. At the end of polling in the 2015 local elections, 14,67,229 people exercised their franchise. But Sunday's election saw the figure crossing the line at noon.
Legislator Priscilla Liang Mei-funn said the majority of polls were predictive of this phase.
Recent clashes and controversies have prompted voters to exercise their franchise on a large scale. "However, during the election, we have seen cases where the campaign was non-partisan and some disturbances of voting today. We call on citizens not to be afraid to come out and vote in support of those who oppose violence. In addition, the government should intervene and resolve the grievances immediately to ensure voter safety and electoral impartiality, "said Fun.
Peter Bentley, a Hong Kong resident of Britain, told the China Daily that most people are happy to exercise their franchise. This is the first time new voters have exercised their franchise. They voted against violence.