IDBI Federal Life Insurance unveils football mania initiative in partnership with Khelo More
More than ten thousand children between the ages of 4 and 16 will now receive the best training for improving football at the local level. This was announced by IDBI Federal Life Insurance at a press conference in Mumbai on Tuesday. The facility will be available in about 40 football centers from Churchgate to Thane, Juhu to Powai and Lower Pearl to Vashi. Through this training, young players will get good training and it will help to become a footballer of tomorrow.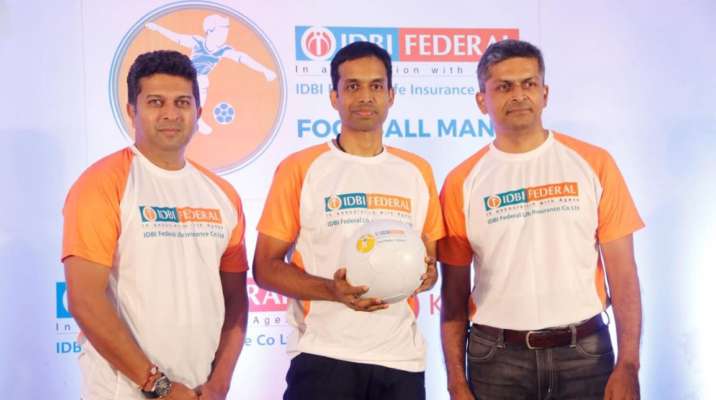 The Center and the local football club meet each Sunday under the football mania, conceived by Khelo Peacock. This match helps them improve their skills. Nearly 170 teams will be participating in two formats - Six A Side and Seven A Side in the next few months.
Two hundred accredited football coaches will be participating in the event. Under this program proper planning for practice and competitions. It will also include many girls. India's leading coach, Dronacharya awardee and national coach of the Indian badminton team. Pulela Gopichand mentored the coaches' workshop on Tuesday. He emphasized the importance of discipline, rigorous training and athleticism. Gopichand is the project head of the IDBI Federal Quest for Excellence program.
Indian kids have the skills and can shine in every sport. If they get the right training, practice and guidance, they can show their glory globally. Gopichand said in a press conference. We have to set up a good game system and will be going to Mumbai through Football Mania, "said Gopichand.
Football Menia is our new venture and our goal is to grow football locally in India. As an organization we have been talking about prosperous life for many years through our Marathon and Our Quest for Excellence badminton program. One of the main goals of youth awareness is to partner with Khelo Peacock. This is what IDBI Federal Life Insurance chief marketing officer Karthik Raman said.
I thank IDBI Federal Life Insurance for sponsoring me. You have a very good skill player in football. However, due to lack of practice and opportunities at the local level, they could not come forward. Through football mania, we will be developing a system to find these same skills. "We will help them develop into tomorrow's champions by giving them proper guidance," said Jatin Paranjpe, founder and CEO of Khelo Mor.