Spend on poverty alleviation
Pope Francis calls on world countries
Nagasaki (Japan): Pope Francis (82) said the cost of nuclear weapons would be better off if poverty was eliminated. Speaking at a function in Nagasaki on Sunday, he criticized the notion of nuclear weapons. Warning on arms race. He called on world leaders to use the funds spent on them to alleviate the poverty of millions of people living in 'inhuman conditions' around the world. He was addressing a public meeting at the Atomic Bomb Hypocenter Park here. Thousands of people flocked to hear his speech. People listened intently to his speech despite the slightest rain. He continued his speech on the occasion, stating that "efforts to build peace and international stability on the fear of mutual destruction and complete annihilation are completely different."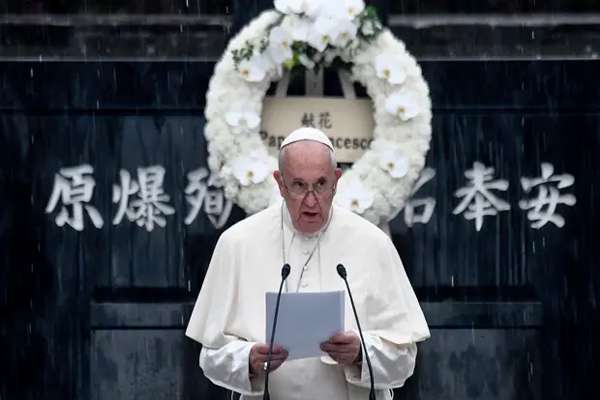 "It is a shame that millions of children and families are wasting money on the manufacture, development, maintenance and sale of weapons that will lead to the destruction of the world in which they live," Pope said.
Prior to this speech, Shigemi Fukahori (88) and Sakui Shimohira (84), who were influential in the 1945 US atomic bombing, presented the wreath to the Pope. He placed it on a tomb. A moment of silence was observed for the victims of the atrocity. He then toured Hiroshima. Here, too, he delivered a passionate speech condemning the ongoing nuclear arms race between nations. Japanese Prime Minister Shinzo Abe is scheduled to meet with the Pope in Tokyo on Monday. He will be touring Japan and Thailand from 20 to 26 this month.